FLT Map: Turnwood Rd (M32) east to West Brand Rd (CR 47) (M33)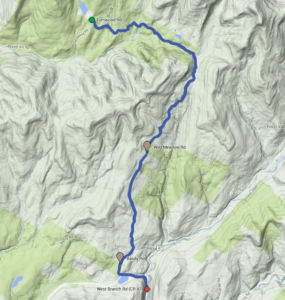 Authors Note: I am re-posting some previous hikes.  I may go back and write up a longer narrative in the future.  
Another hike on the Finger Lake Trail. A long one, 20.23 miles, but not a lot of elevation. My friend Tim went with me on this one. Very near the east end of the FLT now. I am also just about 1/2 done with my E2E on the FLT.
While walking down Wild Meadow Rd (aka Black Bear Rd) we saw a pickup truck stop ahead of us and the guys in it pointing off to the side. We came up to them and they pointed up into the trees at some black bear cubs that had climbed up. They said they had seen the mother bear around. Lighting wasn't really good to get photos and Tim and I decided not to stay around too long just to be safe.
Hike Stats:
20.23 miles, 2.7mph avg moving, 2.1mph avg overall, 9h:35m moving, 7h:29m stopped, 2h:06m total time, max elevation 2749ft, total assent 1765ft, 87.25ft/mi. FLT M32, M33
Total trail miles completed to-date: 280.6.x (49.6%)
Photos:
Facebook: http://on.fb.me/1Nq4wAI
Google: https://goo.gl/photos/gzcd48dyjuh4tXUW7